On June 11, 2005 several thousand people came together under one roof at Toyota Center in Houston. The small but energetic swadhyayees of Houston along with other Swadhyayee Krutisheels from Dallas, Austin, San Antonio, Baton Rouge, New Orleans and other cities in the South Zone together visited about 5000 families in a short span of only 3 1/2 months. They visited them multiple times explaining the meaning of Life, importance of Trikal Sandhya and such.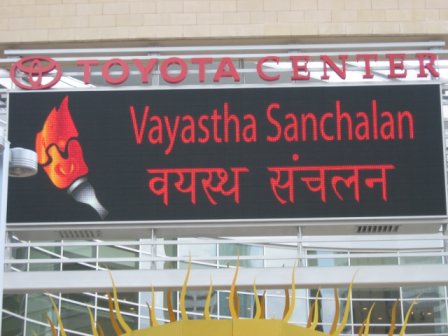 True to the progress of our Karya since 2000, the main slogan of the event was "Nahi Rukega Kram". This was shown everywhere - on banners, Vyaspeeth, Giant displays in the arena, closed circuit screens, T-Shirts, Bhaktichakra etc. There were 2 (blue and white) large mashaals (18 feet in height and 7 feet diameter at top) on each side of the stage. The mashaals weighed at 300 pounds each.
The main gate was erected outside the Toyota Center. It was named appropriately as 'Aditya Dwar'. This gate was 40 feet wide and 26 feet tall. The base pillars were 5 1/2' x 5 1/2 feet' on each side. There were different slogans written on each section. One side of the base (pillars) said ' Tav Chaha Parinam Hoga Dadaji' and others 'Nahi Rukega Kram'. The top of the gate displayed radiant Sun with multiple rays on both side. The depictions on those sections were...
'Aditya Dwar' and underneath...' Jalaya Khudako Duniya Ki Roshani Ke Liye'.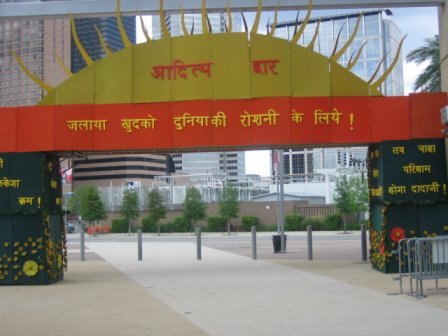 At 4:11pm, Pujya Didiji arrived through Aditya Dwar. As usual, she was not alone. She brought Dadaji with her. All through out, she kept Dadaji in the center of her talks and in the center of the event. DADAJI is Hrudyastha in all of us. She released colorful big bunch of balloons in the Houston sky. Youths welcomed DADAJI and Didiji with a traditional Texas 2 Step dance. This was unique as it was a perfect combination of western style with our traditional eastern "Bhav Bhinu Swagatam". Youths formed a human chain on both the sides, from the entrance all through the Vyaspeeth. They recited Narayan Upanishad all along. The entire thing was being displayed through live feed inside the Toyota Center arena.
After unfurling the Sanskrutik Dhwaj (flag), Pujya Didiji officially inaugurated the event. Of course the whole Toyota Center echoed with the recital of Trikal Sandhya by all those present. It was a very thrilling experience.
Among some specially invited guest was our beloved sister, Dr. Betty Unterberger. She open heartedly spoke about her encounters with Pujya DADAJI and our pariwar. She admitted that as per Dada's philosophy, we all are creation of God and so that we all are one. She accepted the recognition of indwelling God including realization and true awareness of God through Dadaji. She remembered the moments that she had spent with Dadaji. She saluted DBT for model or sample provided to the West. Further she revealed what she had found out about DIDI and mentioned that she knows that DIDI is a great scholar. She quoted the quotation of Majid Rehnuma-"DIDI IS THE YOUNGEST MOTHER OF THE LARGEST FAMILY IN THE WORLD".
Pujya Didiji was modest enough to say that she should be recognized only through DADAJI's work and his name.
Vaak Pushpa(s) offered by a Bhai, a Bahen and a youth were notable. Also notable were their experiences with Pujya DADAJI, the pariwar and the changes that this revolution has brought about in everyone.
Pujya Didiji welcomed everyone on behalf of the Swadhyay Pariwar. She thanked the people who came first time in the Swadhyay as they have given opportunity for Bhakti to us. She emphasized that Dadaji has fitted the highest philosophy in the smallest mind.
Further, she clarified that how best thinking, best philosophy can be slower by nature. But Pujya Dadaji (Swayam Chaitanya) has lifted the ball of SANSKRUTI and forwarded to further. And that's all we all have to do for our SANSKRUTI. This was the main theme-slogan "NAHI RUKEGA KRAM" until Yuvan will be there in all places, all aspects, and everywhere. Than she talked about krutagnata, Bhakti, Trikal Sandhya, Jnana, Sleep, Self-development and total transformation through individual transformation.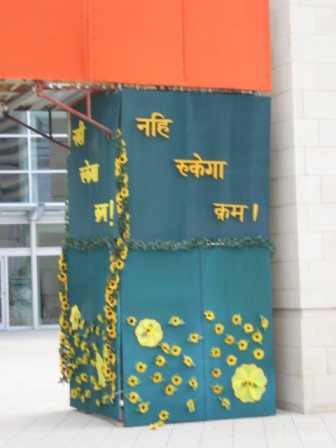 Everyone enjoyed the clips of "Ashiti Vandana". It was marvelous. Everyone felt that they are at Shukla Tirth on the bank of Holy River Narmada. DBT youths presented mashaal geet wearing cowboy hat and white T-Shirt on a blue jean. During the entire event, there were hundreds of pictures of Dadaji, Tai and Didiji on screen (360 degree outer ring all around arena) all around. The Bhavgeet-"Yahan Vahan Hai Nahi Kahan Mat Puchho Mere Dada Kahan" was sung by all at the end.