Archirayan
Rev. Dadaji worked tirelessly for 83 years primarily for the upliftment of humanity and the establishment of human dignity.In his pursuit of enabling all humans to become enlightened, happy, and grateful, Dadaji did not pay attention to his own physical discomforts.He was never deterred by adverse climates, including rain, heat, and snow. He wholeheartedly embraced people from all walks of life, without regard to race, religion, nationality, gender, social status or the like.He became the living embodiment of the Universal Man, showering his selfless love on everyone.
Dadaji Continues His Work.
During his physical life, Dadaji had opened his heart to millions upon millions of people.He has since decided to live in their hearts; Dadaji transformed his role to that of Hridayastha ("dwelling within the heart").
According to the Vedic Way of Life, it is customary to perform Asthi Visarjan (immersing of ashes) in holy waters after the cessation of physical existence. But how could the Swadhyaya family have an Asthi Visarjan for their beloved Dadaji if he continued to live in their hearts? He radiates through their smiles, he sees through their eyes, he touches with their hands, and he walks using their feet. Since Dadaji has not gone anywhere, it did not seem appropriate to have an Asthi Visarjan. Instead, seven Archirayans were held at seven different sites.
"Archirayan" is not a synonym for Asthi Visarjan. Archirayan mirrors the path of the Sun, as Dadaji is like the Sun, with His radiance, warmth, and unique energy. One may wonder, "if Archirayan is not the same as Asthi Visarjan, then why are Swadhyayees performing the ritual of Asthi Visarjan?" Rev. Didiji explains that via the ritual of Asthi Visarjan, vices like inflated ego, jealousy, uncontrolled desires, and anger are symbolically removed.
Dadaji has always treated all like his own children, and Didiji is no different. She has treated Swadhyayees like her own brothers and sisters. Instead of merely saying the all Swadhyayees are her family, she proved it by bestowing upon them the highest honor possible. She allowed them to be an active part of Dadaji's Archirayan, an honor which is traditionally limited only to immediate family members.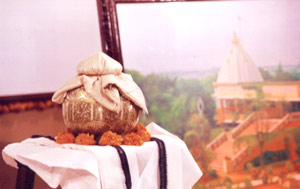 Places For Archirayan:
Since Dadaji never limited himself to any single place, it was quite natural that Archirayan also could not be limited to one place. We, as the Pariwar, decided to take our Dadaji to seven different holy places in India during Archirayan!
| | | | |
| --- | --- | --- | --- |
| 1. | Ujjain | Madhya Pradesh | Jan 3rd, 2005 |
| 2. | Pushkar | Rajasthan | Jan 7th, 2005 |
| 3. | Haridwar | Uttaranchal | Jan 11th, 2005 |
| 4. | Kurukshetra | Haryana | Jan 14th, 2005 |
| 5. | Gaya | Zarkhand | Jan 18th, 2005 |
| 6. | Jagannath Puri | Orissa | Jan 21st, 2005 |
| 7. | Rameshwar | Tamilnadu | July 3rd, 2006 |
Spiritual Process During Archirayan:
During each and every Archirayan, Dadaji's children numbering anywhere from 20,000 to 40,000 set out on a spiritual journey to do what Dadaji liked the most, i.e. SELFLESSLY MEET GOD'S CHILDREN. During each event, they visited anywhere from 3,000 to 5,500 villages and metropolitan areas, sharing selfless love with the people in those areas. They shared Dadaji's message of Trikal Sandhya with their divine brothers and sisters. They wrote their emotional experiences in UPASHRUTI, along with the names of the people they met. They offered this Upashruti to Dadaji on the last day of their pilgrimage.
Historic Event:
During each Archirayan event, the world witnessed a unique divine wave. For example, 35,000 Swadhyayees from Maharashtra, along with thousands of other Swadhyayees (including over 1,000 from the North America & the UK) traveled to meet their fellow human beings in over 5,000 Tamil villages. Despite the barrier of language, these Swadhyayees developed warm divine relationships with hundreds of thousands of Tamil-speaking brothers and sisters. Such an exceptional display of divine love has never before been witnessed in the history of the world, and it is only possible because of Dadaji's blessings and Didiji's guidance.